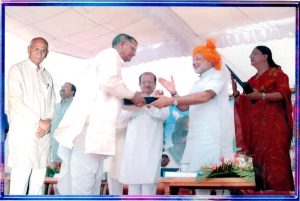 The venture of Choksi Kantilal Nagindas was established in 1965 which has a renowned name in the Unjha Gunj Baazar (Asia's Biggest Agriculture commodity Market).We act as suppliers of the spices in India as well as in foreign countries.We have entered the international market as well with the export of these products. We are located at biggest spices and oil seeds market of Asia which is Unjha. Unjha is well known as "Spice City of India" and is famous for trading of Indian Spices, Oil Seeds and Agro Products.
This family business has hugely expanded and are well known in the market and operate under the firm name:
1. Choksi Vinaykumar Kantilal
2. Choksi Kantilal Nagindas
3. Yash Corporation
The presence of Biren Choksi(Son) and Yash Choksi(Grandson),as per the market trend and demand have strated the export of these products under the firm name YASH CORPORATION.
Mr.Kantilal has been honored by Mr. Narendra Modi with the title Best Entrepreneur in which they were the one of the five entrepreneur.
Our goal is to achieve the customer satisfaction with high-quality products and at the best price in the market with timely delivery of products.