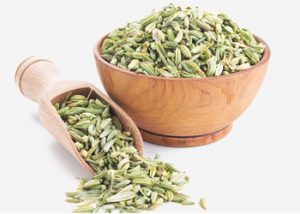 Specifications:
Botanical Name – Foeniculum vulgare
Common name – Fennel, Souff
History:
In India, fennel seed is known as Souff. Fennel seeds are the dried aromatic seed belonging to the Foeniculum Vulgare plant. India is considered to be one of the leading producers and exporters of these seeds in global market. It comes in colors ranging from bright green to pale green. Fennel is the dried, ripe fruit of the perennial Foeniculum vulgare. Tall and hardy, this plant has finely divided, feathery, green foliage and golden yellow flowers.
Fennel seed used as:
Fennel seeds are commonly used as natural food supplement. Fennel seeds found their regular/day to day usage as taste enhancer in foods of cuisines including Indian cuisine and other Asian and European food menus. It is used in pickles, chutneys and vinegar as taste enhancer. Popularly fennel seeds in India are used for mouth freshener. Apart from food, fennel seeds are used to compose medicines for blood purification, digestion booster and acidity healer.
Our quality Fennel Seeds are available in a varied range of packaging that suits your customized requirement.
Quality:
| | |
| --- | --- |
| European Quality | Singapore Quality |
| Purity 99% | Purity 99% |
| Admixture 1% | Admixture 1% |
| Moisture 10% Max | Moisture 10% Max |