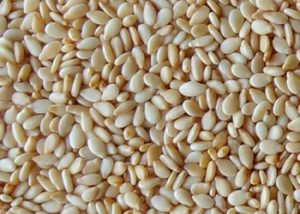 Specifications :
Botanical Name – Sesamum indicum
Sesame Common name – Sesame, Sesamum, Til, Gingeli
We provide rich quality Natural Sesame Seeds to our valuable clients. These seeds are rich source of vitamin-B and minerals.
History:
Natural sesame seeds are considered to be most organic, hygienic and nutritional rich seeds among all classes as these seeds are acquired from nature and supplied to markets in their most natural form and thus contain high number of nutritional properties. Natural sesame seeds are available in two variants:  Natural White Sesame Seeds, Natural Black Sesame Seeds Natural White Sesame Seeds: Natural white sesame seeds are mostly sweet and tastes like nuts. These seeds come in white or slightly pale-yellow color and therefore are called white sesame seeds.
Our quality Natural Sesame seeds are available in a varied range of packaging that suits your customized requirement.
Product properties
Feature
Result
QC Frequency
Color
Texture
Purity
Whitish
Seed shaped
99% to 99.95%
Visual check
Microbiology
Salmonela
Free fatty acids
Absent in 25 gram <2%
Visual check Micro planning
Average Nutritional Value
Protein
Total fat
Carbohydrates
Fiber
Ash
Moisture
20-24% w/w
55-60% w/w
9-25% w/w
4-6% w/w
3-5%
Max. 6%
* The above specifications to be considered as guidelines only
* Indian Certificate of analysis final
Types
White Seeds
Dark Coloured
Seeds
Admixture
Oil Content
FFA
Moisture
99/1/1
95% Min
5% Max
1% Max
48% Min
2% Max
6% Max
98/2/2
98% Min
2% Max
2% Max
48% Min
2% Max
6% Max
99/1/1-99.95%
95% Min
5% Max
1% Max
48% Min
2% Max
6% Max
95/5/1 Crushing
95% Min
5% Max
1% Max
48% Min
2% Max
6% Max